Ansel Krut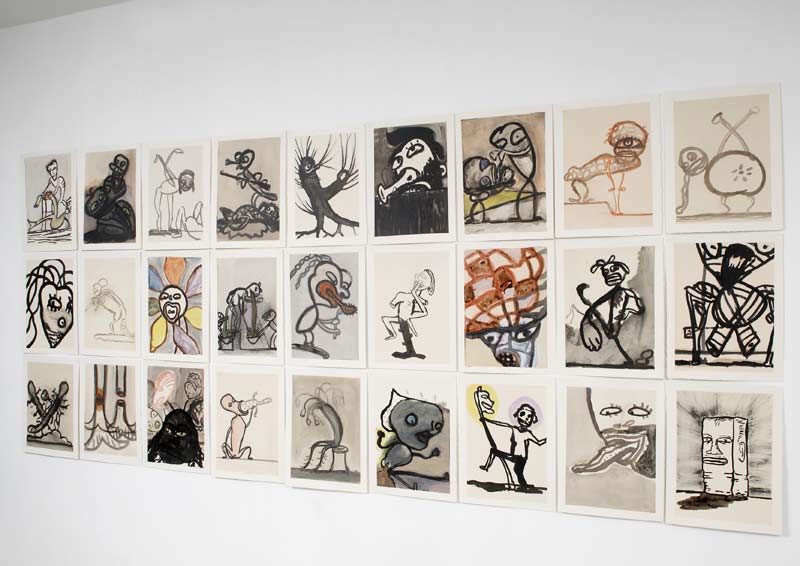 'It could be suicide…'
Installation view (detail) of a selection of drawings from Ansel Krut's first solo show at domobaal gallery, accompanied by a tabloid newspaper in full colour, with 14 full–size drawings, published by domobaal editions 2004. (each: ink on paper, 38×29 cm/15"×11.4" 2004, photograph by Andy Keate)
"Ansel Krut's watercolours describe life as a grotesque carnival of peculiar acts and atrocities. At a glance, the room appears full of tinted rather than painted works on paper – like satirical cartoons or old photographs. Played out with orange blood and quasi–human characters, the matter–of–fact violence flits indiscriminately between shock and slapstick."
extract from Rebecca Geldard's review of 'It could be suicide…' in Time Out Magazine, March 2004
Work from this series has been widely exhibited and documented in publications that include: 'Jerwood Drawing Prize' catalogues 2001, 2002, 2003, 2004; 'The Drawing Book' edited by Tania Kovats, published by Black Dog in 2008; 'Art on Paper 2008' Weatherspoon Art Museum USA, exhibition catalogue, 2008; 'Writing on Drawing, Essays on Drawing Practice and Research' edited by Steve Garner, published by Intellect, 2009; 'The Primacy of Drawing' by Professor Deanna Petherbridge, Yale University Press 2009 among others.