Haskard & Haskard
10.11.17 – 16.12.17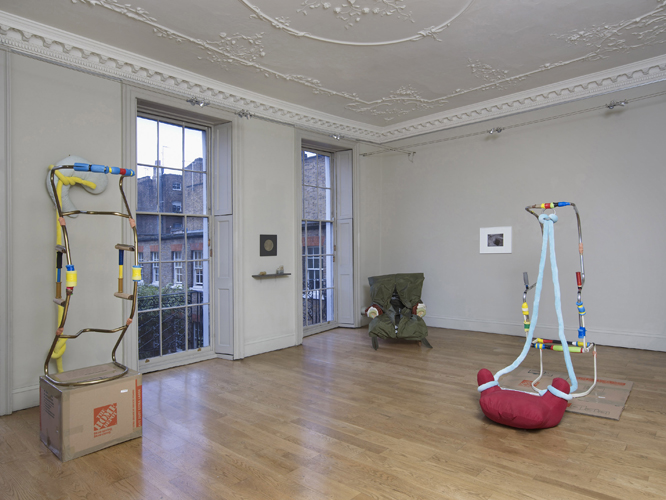 (image: Haskard & Haskard, installation photo by Andy Keate, see pdf for full list of works)
A Scene
Two chairs are placed in a room, facing one another. The room is well lit. There are other, assorted objects around them on the walls, but out of the objects, they are the biggest and most prominent (this can be achieved by positioning, or lighting). Although clearly 'complete', neither of the chairs are practical for use, i.e. they can not be sat on.
Both voices are disembodied, coming from stage left (Chair 1) and stage right (Chair 2).
Chair 1
What on earth happened to you?
(Silence, followed by shuffling.)
Chair 2
(coughs) Meaning?
Chair 1
It doesn't mean anything … just that you don't look too good, that's all.
Chair 2
That's rich … coming from you … when you're absolutely battered.
Chair 1
You don't seem like you'd be up to much yourself … a long way past useful.
Chair 2
I was never intended to be useful … I was destined for a more laid–back existence.
Chair 1
Laid back? (laughs)
Chair 2
You need to relax … It is, after all, what you're for.
Chair 1
I'm for nothing of the sort.
Chair 2
What are you for then?
Chair 1
I'm not for anything … at least, not anymore.
Chair 2
Are you saying you're retired?
Chair 1
I'm far too young to retire. It's more that … I want to be free to take up what opportunities life presents me with … I want to see the world … I don't want to be tied down …
Chair 2
(mutters) I doubt life is going to present you with any opportunities if all you do is sit around here.
Chair 1
(mocking) I firmly disagree.
Chair 2
(annoyed) Well, what about you? All these questions, all this scrutiny. I am just biding my time, trying to be humble, and accept what I'm given. You're the one who seems het up about the situation.
Chair 1
I'm not het up ... it's just these lights ...
The End


Domo Baal is delighted to present new works by Aubrey Haskard and Skylar Haskard. The Haskards are artists and brothers, one lives in Los Angeles and one lives in London – they both studied at Glasgow School of Art.
They do not work together.