Kim Merrington: Pleasure Trove
17.06.03 – 19.07.03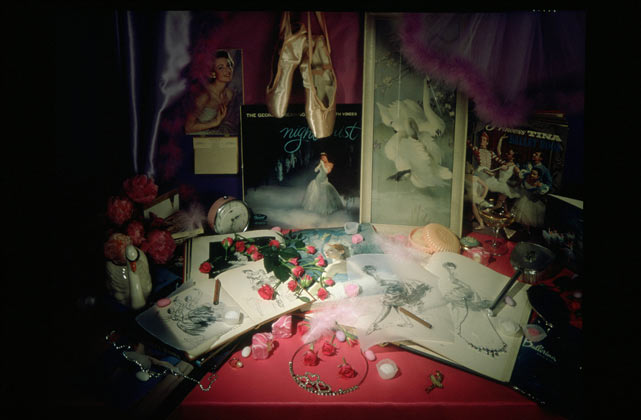 Kim Merrington invites you to luxuriate in 'Pleasure Trove', her new installation in which the secret world of Sandy Fullerlove is brought to vivid and sensuous life. Sandy's diary, a chance find in a house clearance sale, paints a poignant picture of unfulfilled desire: of the private longing and yearning experienced by a young girl growing up in dreary suburban 1960's Britain.
September 19th, 1965: "I want to live in a place like the ones in my picture book, where it is always wonderful and everyone is endlessly happy."
Spectacular photographic lightboxes are fused with drawing to make manifest key extracts from Sandy's story. The images, which are created as elaborately staged tableaux, are reminiscent of the vanitas still–life tradition, where everyday objects take on an entirely new significance through their selection and juxtaposition. Exploring the relationship between the mundane and the fantastical, frustration and aspiration, the lightboxes literally illuminate the young girl's voice. These illusions however are temporary facades: when the lights are switched off, the images themselves disappear.
Pleasure Trove transports the viewer, as if by time machine, to another place, to reveal the lost, intimate world of Sandy Fullerlove.
Kim Merrington is fascinated with biographies and how identities are constructed through the narratives by which we describe our lives. Through the conflation of fiction and fact, her installations explore notions of serendipity, memory and time.
Kim Merrington was awarded the Evelyn Williams Fellowship in Drawing 1996–7 and the Linbury Fellowship in Drawing 1998–2000. She has exhibited widely. Solo exhib itions in 2003 include 'High Flyer', showing at Ferens Art Gallery, Hull 28th June until 31st August and concurrently at 24hr Art, the Northern Territory Gallery for Contemporary Art in Australia. 'Double Fall Back Twister' will be at the Mclean County Art Center Illinois USA later this year and will then tour the UK. Images, further information and meringues available from Domo Baal.