Ausland: Jan Peters, Silke Schatz & Martina Schmid
10.10.03 – 08.11.03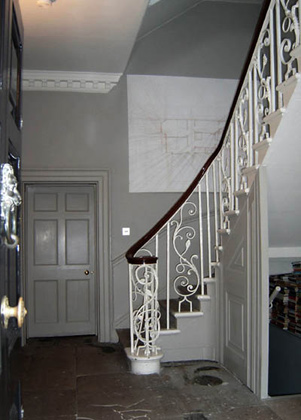 Domo Baal is proud to present 'Ausland' an exhibition bringing together three contemporary German artists who, in different ways, deal with issues of memory and the trace of experience, whether it be sociological, historical, political, domestic or sexual. Whilst the artists have their country of origin in common, each particular contribution will reveal the distinct undercurrents that reflect the specific contexts from which they emerge.
Jan Peters is a filmmaker based in Hamburg and Paris. He makes films in a fast–talking diary–documentary style alternating gently between fact and fiction, comedy and tragedy. His work features anecdotes about his immediate circle of friends commenting on the multicultural and historical realities of everyday life.
Jan Peters (born 1966) studied at Hochschule für Bildende Kunst, Hamburg. His film 'December 1–31' had its Premiere at the German Film Festival Berlinale in 1999. It won the prestigious Fipresci;–Prize at the Sarajewo Film Festival, the Prize for Best Documentary at the Independent Cinema Festival, Barcelona, and has been shown on German Television (arte, ZDF, 3sat). His new film 'Wie ich ein Höhlenmaler wurde' (comissioned and co–produced by Deutsches Schauspielhaus Hamburg) was included in 'Traversées' at Palais de Tokyo, 2002 Paris, an exhibition curated by Hans–Ulrich Obrist.
Silke Schatz is based in Cologne, currently living and working in Rome, having won a Villa Massimo Residency Award. She is known for her large–scale architectural drawings that resemble and evoke interiors and buildings constructed from memory, and photographs, which have been chosen for their personal and socio–political significance. She also experiments with arranging objects, photographs and collages, so that they become installations within a given space.
Silke Schatz (born 1967) studied at the Hochschule für Bildende Kunst, Braunschweig. Her work has been included in 'playing amongst the ruins', 2001 at the Royal College of Art and 'Drawing on Space', 2002, curated by The Drawing Room, London, 'Persönliche Pläne', 2002 Kunsthalle Basel and 'International Paper', 2003, UCLA Hammer Museum Los Angeles She has had solo exhibitions at Borgmann & Nathusius, Cologne, 2001 Meyer Riegger Galerie, 2001 Karlsruhe, Anthony Wilkinson Gallery, 2000 London, and Brent Sikkema, 1999 New York. Her second solo exhibition, 'The Kleinfamilie' took place this July at Anthony Wilkinson Gallery.
Martina Schmid lives and works in London. She makes panoramic drawings of fictitious landscapes that suggest body or skin but also an archaeological interior. Her more recent map–drawings simulate the physical and psychological experience of seeing a country by recreating nature on folded paper with an accumulation of intense doodle–like marks. She also works with text and publishes an annual artist's book.
Martina Schmid (born 1966) studied at Central St Martins College of Art & Design and the Royal College of Art. Her work has been included in the 'Jerwood Drawing Prize', 2002, 'Yes! I am a long way from home', 2003 The Nunnery, London, and 'Mostyn 13', 2003 Oriel Mostyn Gallery. Her Solo Exhibition, 'Land or Reason' took place at domobaal in 2001. She has published 'Thirteen Collected Lands', 2001 and 'Landed', 2002. Most recently she was selected for 'Pizza Express Art Prospects', 2003, London.
To accompany 'Ausland' a colour publication, will be published by domobaal editions, designed by Catrack, Berlin with essays by Jane Rendell, London and Thomas Wulffen, Berlin. We are grateful to the Goethe–Institut London, for their kind support.