13+
08.04.05 – 21.05.05
13+ is a gallery exhibition of artists' film and video curated and presented by Domo Baal – artists are listed here in order of play: Marcel Dinahet, Jemima Burrill, Jaspar Joseph–Lester, Daniel Gustav Cramer, Haris Epaminonda, Kim Noble, Tom Dale, Ailbhe Ní Bhriain, Chris Gibson, Giles Perry, Jenny Perlin, Ron Haselden, Felicity Powell, Jeffrey TY Lee – alongside a hardback, bible clothbound A3 artist's book 'Mutter Seelen Allein' by Claudia Sarnthein. The complete showreel runs for 01:46:45.
Marcel Dinahet: Á Chypre (In Cyprus) (01:22 min)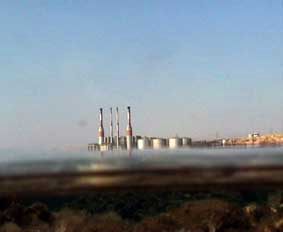 "Images, which, at first glance, elude any documentary or narrative logic. Recorded by a camera often abandoned to the elements, to the movements of the sea, they have a physical impact on the viewer. Seeming to embody the "vision without a gaze" evoked by Virilio (Guerre et cinéma I, Paris: Editions Cahiers du Cinéma, 1991), they render the experience of places moved through and felt rather than seen." Dominique Abensour
Marcel Dinahet lives and works in France. He is building up a singular body of work whose guiding thread is the seafront. This work reveals affinities with the work he did as a sculptor before moving on to moving images, and articulate an experience of space. This space is not described but written, traversed, explored – "scraped" by the camera.
>further information on Marcel Dinahet
Jemima Burrill: Cleaner (06:44 min)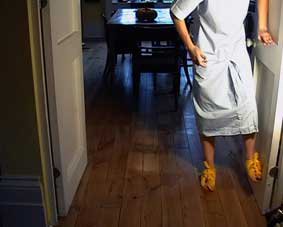 A cleaning lady in an erotic, seductive and subversive way cleans a house with her body. She abuses and is abused by the house she cleans. She cleans the kitchen side with her breasts and sniffs house dust off the mantelpiece, then picks up her cash and leaves. The protagonist is somehow knowing of her peculiar acts but moves through the sequence as if in a dream, as if she has been doing this all her life. Burrill's films explore a place where there is no middle ground, where the mundane gets pushed into the significant and where there is no longer a grey area.
Jemima Burrill is an MA student in Sculpture at the RCA, having graduated from Chelsea School of Art in 2004. She has exhibited in group exhibitions at the ICA, London CCA, Glasgow and the Edinburgh film festival. She will have a solo show later this year at Julian Scott Memorial Gallery Vermont USA.
>further information on Jemima Burrill
Jaspar Joseph–Lester: Shaft (04:30min)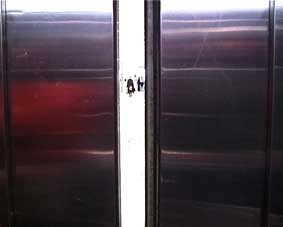 Tiffany's 2nd Floor Bloomingdales 8th Floor Liberty's 3rd Floor Dickens and Jones Lower Ground Debenhams 5th Floor John Lewis 3rd Floor Bloomingdales Ground Flour Bloomingdales 2nd Floor Liberty's Ground Floor Liberty's 4th Floor Asprey's Ground Floor Asprey's 1st Floor Bloomingdales Lower Ground
Jaspar Joseph–Lester has shown his work in various venues in this country and abroad. His work is included in the forthcoming international touring show of UK video 'All for Show', curated by Lee Campbell, and 'Episode' which he has co–curated with Amanda Beech and Matthew Poole.
>further information on Jaspar Joseph–Lester
Daniel Gustav Cramer: Loch Ness (04:02 min)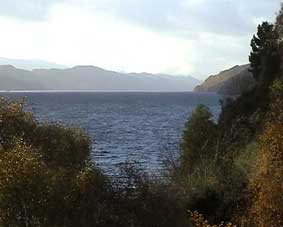 Dates of reported film evidences proving the existence of an unknown creature in Loch Ness: 12th December 1933 – 15th September 1934 – 22nd September 1936 – 29th May 1938 – 23rd April 1960 – 18th October 1962 – 6th June 1963 – 13th June 1963 – 21st May 1964 – 1st August 1965 – 14th February 1967 – 22nd May 1967 – 13th June 1967 – 22nd August 1967 – 23rd August 1967 – 5th October 1967 – 4th May 1968 – 27th May 1969 – 23rd June 1969 – 16th September 1969 – 18th July 1975 – 22nd August 1977 – 6th August 1983 – 21st July 1992.
Daniel Gustav Cramer graduated from the RCA in 2003, and was selected for New Contemporaries that year. His ongoing project 'Woodland' has been exhibited at domobaal, van der grinten gallery Cologne, and will open this April in Lisbon, supported by Kunststiftung NRW and the Goethe Institut Lisbon. 'Woodland' will be published by domobaal editions in April 2005.
>further information on Daniel Gustav Cramer
Haris Epaminonda: Nemesis 52 (13:07 min)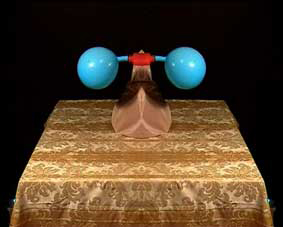 "I always cared for discarded things. If nothing else, they offer a past; continuing a faint memory of what is no longer. Disembodied objects, reflecting the absence of the living thing, implying the presence of the more solid, that which once 'was' here, there – at least somewhere."
Haris Epaminonda graduated from the RCA in 2003. She first exhibited at domobaal in Paradisiaco in November 2004. 'Nemesis 52' has been shown widely including WWVF 2004, 21st World Wide Video Festival, Post CS, Amsterdam, HI LITE 5, Archimede Staffolini Gallery, Cyprus, Appejay Media Gallery, India, BizArt Center, China and Passage de Retz, Paris.
>further information on Haris Epaminonda
Kim Noble: Show those Arseholes What You Can Do (00:48 min), An Apology (01:51 min)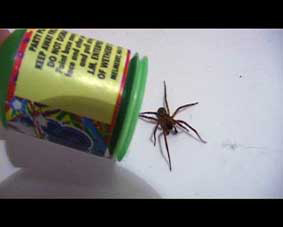 "If only there were evil people somewhere insidiously committing evil deeds, and it were necessary only to separate them from the rest of us and destroy them. But the line dividing good and evil cuts right through the heart of every human being." Alexander Solzhenitsyn
"I'm lovin' it" Ronald McDonald
delete/circle where necessary: Kim Noble is a: male/female artist, currently working in: London/Ceramics/Part–time in Pizza Hut. He/She is: a multi–media performance artist/a cunt/a person who loves dogs, who studied Fine Art: in 1994–97/by accident/in a very small white room. His/Her work: explores notions of femininity/is always poorly executed/is best viewed with arses to the walls.
>further information on Kim Noble
Tom Dale: Astral Navigation (04:48 min)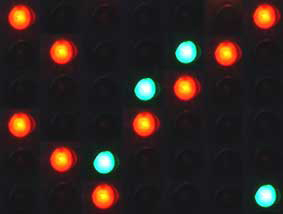 "Never again could I see the world, as I had known it. Mixed with the present scene was always a little of the past and a little of the future, and every once–familiar object loomed alien in the new perspective brought on by my widened sight" (from H.P. Lovecraft)
Tom Dale is host and server to a number of voices, both transient and permanent. Under their duress he has externalised work singularly and in crowds throughout Europe and North America. The most recent sites for this being: Wetterling Gallery Stockholm, Raster Gallery Warsaw, St. Paul St Gallery Auckland and The Nicosia Municipal Art Centre, Cyprus. Future destinations include a solo show at the CCA Warsaw, and participation in the Stella Artois After Dark Cinema events in Birmingham, Manchester, Cardiff and London.
>further information on Tom Dale
Ailbhe Ní Bhriain: Immergence (14:03 min)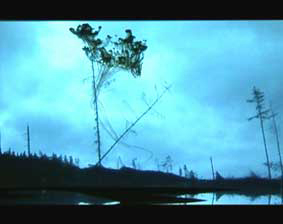 "The trees of the mind are black. The light is blue." (from "The Moon and The Yew Tree" by Sylvia Plath)
Ailbhe Ní Bhriain graduated from the RCA in 2004. She has shown frequently in Ireland and London, and won the Jerwood Student Prize for Drawing on 2004. in December 2004, she exhibited in the New Media Art Festival, Seoul, Korea and in April 2005 was selected as one of eight international artists for the European Capital of Culture 2005 exhibition.
>further information on Ailbhe Ní Bhriain
Chris Gibson: The Weimar Years (09:29 min)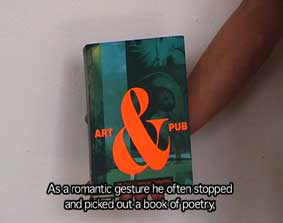 "Sometimes, going about everyday life, he got the impression that time was standing still. It would only happen in certain places and at certain times. He often longed to go back to one of those moments that lull, that calm before the inevitable storm. He would look back at those periods as if they were whole lifetimes; seasons of tranquillity."
Chris Gibson graduated in 2004 from Sheffield Hallam University. He is primarily concerned with representing the small moments in our lives, those that often define us as individuals. Currently, he is taking part in a residency programme at Leeds Central Library from the 7th April to the 24th June.
>further information on Chris Gibson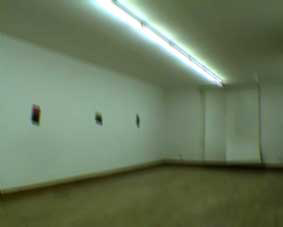 Giles Perry: Quake, Galerie Strenz (00:46min)
"Lee felt a stillness around him. He had an eerie sense he was being watched for his reaction. He felt connected to the events on the screen. It was like secret instructions entering the network of signals and broadcast bands, the whole busy air of transmission. Marina was asleep. They were running a message through the night into his skin. The streets were dark. The house was dark, except for the flickering screen; an old scratchy film that carried his dreams. Perfection of rage, perfection of control, the fantasy of night. Lee felt that he was in the middle of his own movie. They were running this thing just for him" (extract from 'Libra' by Don DeLillo)
Giles Perry took his MA at Goldsmiths in 2004 and lives in London. Group exhibitions include 'Intervention', at John Hansard Gallery, Southampton and recently 'Biennale Artist's Film and Video 2005' at temporarycontemporary, London that tours to China in 2005/06.
Jenny Perlin: Possible Models (10:45 min)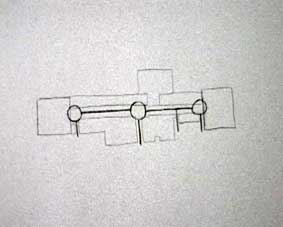 "A small but comprehensive film. Made dryly and without commentary, in its silence it expresses an emotional scream. About the lost ideal of the social shopping mall and the war against fear. Perlin copies and traces. One after the other, newspaper quotes and maps are an animated film in its most simple form. This simple form turns out to be very effective. That's why the teacher wrote on the school board: so that it got through to you." Gertjan Zuilhof, Rotterdam Film Festival, January 2005.
Jenny Perlin studied at the School of the Art Institute of Chicago, Chicago, IL M.F.A. Film & Video Department graduating in 1998 and then the Whitney Museum of Art Independent Study Program, New York, NY Studio Art Program 1998–99. She has just had a second solo show 'Sight Reading' at Annet Gelink Gallery, Amsterdam, and last exhibited in London in 'Someone To Share My Life With' at The Approach.
>further information on Jenny Perlin
Ron Haselden: Aeroplane (02:14)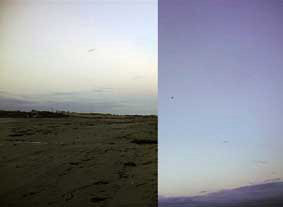 Just over the small mound of grass is a campsite that we used to visit near to the village of Pleudihen in Brittany. It seemed to rain a lot but along with the regular visitors to the site whom we got to know, and the small café bar run by Monsieur Chevestrier, it was nonetheless a relaxing place to be. Many people took cockles from the river and samphire to eat from the salt flats accompanied by cider from the local ciderie. The River Rance runs upstream to Dinan and becomes a canal beyond, while downstream it enters the Channel and the Port of St. Malo. The new bridge spanning the river carries the main autoroute to the West and eventually to the Atlantic and the most westerly points of France. Across the river is the small port of Plouër–sur–Rance where we live and work most of the time. The port was once a tide mill of which there are several along the Rance. They trapped and retained water from each tide to turn the mill wheel as the tide ebbed. Not far away is the small airport of Dinard, always busy with small light aircraft and the daily jet to Britain.
Ron Haselden lives and works in Plouër–sur–Rance and London. He is a sculptor working primarily with light, electronics, sound and film. He has exhibited widely internationally, having had six solo exhibitions since 2001. His forthcoming solo exhibition, 'bee–trilogy' will be at domobaal in November this year.
>further information on Ron Haselden
Felicity Powell: Drawn from the Well (06:19 min)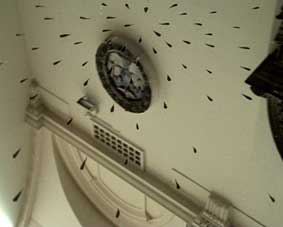 Reflection, in all senses, is a melancholy thing. Even in reverie. To catch a glimpse of a world inverted, as in a pool, is to see it transformed. Simultaneously close and distant, within and out of reach. In tracking the reflection, that world slips by.
Felicity Powell studied Fine Art at Falmouth College of Art and at the Royal Academy Schools. She was awarded the Gulbenkian Rome Scholarship for Sculpture to the British School at Rome from 1986–87. The installation 'Drawn from the Well' was shown at the V&A Main Sculpture Courts from 2002–2004.
Jeffrey TY Lee: Plot (25:25 min)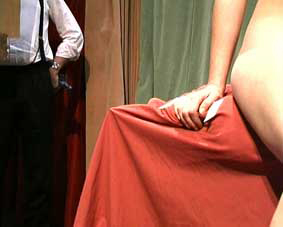 "I first saw the film The Quince Tree Sun by Victor Erice in 1993. The film is a documentary record of the painting of a quince tree by the Spanish artist Antonio Lopez Garcia. I did not understand the film then and I still do not understand what the film is about even though I have watched it again. In a recent interview, Erice reveals that he was after something that was not available to the viewer, something outside the frame. I believe art works best when it resists closure. It is a personal journey and the artist always sees something no one else can. It is the creative act of making the work that becomes the work."
Jeffrey TY Lee graduated from Chelsea School of Art, BA in 2000 and was selected for New Contemporaries that year, followed by an MA at the Royal Academy Schools in 2003. Group shows include 'some panoramas' curated by Paul Hedge at Pump House, Battersea in September 2003. Forthcoming projects include: 'Polyfonia' at the Jetty Barracks Gallery, Finland in association with Nifca.
>further information on Jeffrey TY Lee
+
Claudia Sarnthein: Mutter Seelen Allein (A bound collection of 26 drawings)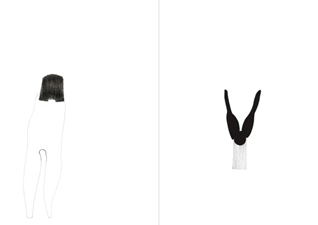 A collection of drawings that emerge through a long non–verbal process of condensation, an attempt to distil an essence. Claudia Sarnthein is in search of a pictorial incident, where something is either just appearing or just about to disappear: something that is coming into being against a void, or leaving a void behind. She is asking how much is needed to be nascent or to remain.
Claudia Sarnthein graduated from the RCA, London in 2004. Her work has been exhibited in Germany and the UK, including Galerie Leeraum, Lueneburg(1996), Zero Galerie, Hamburg (1995). Awards include the F. Homann Stiftung, Hamburg and Die Zeit, Hamburg. Publications include H.Chr. Andersen/SolArk publishing, London/Copenhagen (April 2005) and 'On Fragments' London (2004).