Ron Haselden: Bee Trilogy
25.11.05 – 17.12.05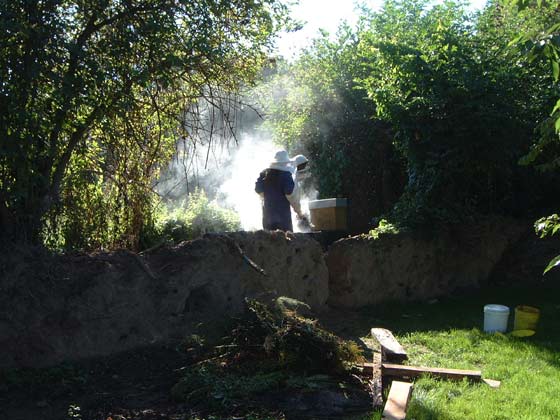 Domo Baal is delighted to present and exhibition of new lightworks by Ron Haselden.
"He has experimented with children's voices, men yodeling, the singing of birds and the howling of wolves." (Richard Gott)
"He is an artist using hard materials – from scaffolding to film–projectors – but soft media: light, sound, movement and time. Wind and water have featured as elements in a number of pieces, and even air pressure. Roughly speaking, his method, which captures an attitude, is to set something up from which, through which, something can flow. He uses a mixture of technology and people. The technology can be high–tech or low–tech, but the inclination is towards the latter, since he is interested more in the flow of natural forces than in the hardware." (David Lillington)
"The material is chosen for its literalness and used straightforwardly – with all the bones and innards exposed… Haselden's work is characterised by this materiality, a way of working which has its most immediate roots in the 1960s – Minimalism, Conceptual and Process art – the aesthetics of silence." (Hilary Gresty)
Haselden's work has consistently taken as its starting point, his immediate environment, which in the case of the work shown here, is the Breton area in France around Plouër sur Rance where he lives and works. Bee Trilogy will be shown alongside a selection of Haselden's notebooks, photographs, drawings and a new video. Some are autonomous works, while others relate to recent and current outdoor sculpture projects further afield in France, Switzerland, Lisbon, as well as several currently in the UK:
17 November: Switch–on Opening Canary Wharf.
20 November: Switch–on Opening Gloucester City Centre.
1 December: Switch–on Opening Geneva.
Nearer home Ron Haselden was awarded 1st prize for the Holborn Underground Competition in 1980.