Daniel Gustav Cramer: Underwater (Trilogy Part Two)
04.03.06 – 08.04.06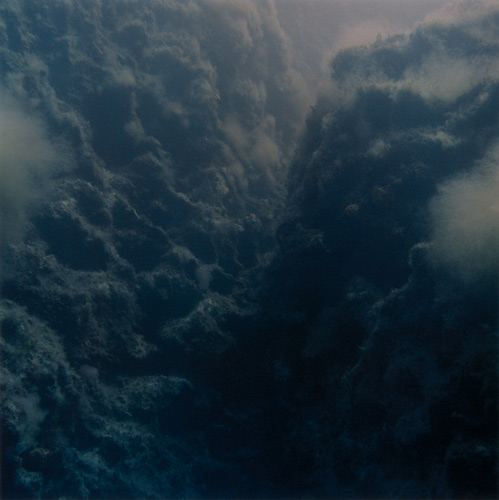 Domo Baal presents Daniel Gustav Cramer's second solo show in the gallery, following 'Woodland' in 2004. 'Underwater' is the second part of 'Trilogy'.
"Following from the inward probing and entries into woodland spaces, we are taken downwards into the deep of the ocean floor. The question for us relates to how vision itself is understood within such a frame? In many respects the feeling of the work appears to be in accord, and in this respect, demonstrates a similar registration of sensibility that is evident in the Woodland series. Why indeed should it be otherwise? At the same time a turn in sense is also emergent, for not only are we being plunged into the depths, but also our relationship to visual understanding is also altered. Lines of light become clouds of diffusion, clarities are obscured, and matter and space ease into the other into a murky in-between in which perspectives give way to an obscurity of views. Despite all these accumulated turns in visual expectancy, we still have a world constituted before us, even though this is a form of half–world, shadowed, refracted, and partly concealed. This feeling of half-world presents us with a clue that we are being lead into a zone in which memory, imagination, and fascination filter in differing degrees into the visible, to the point that, stable forms of focus tremor within the frame. We are shown a world caught between composition and decay, almost a primal stirring beneath the surface of things. Even though our knowledge of these border regions of vision are constituted mainly through the pictorial constancy of the photographic, or moving image reportage aimed to enthral our sense, these photographs instead dissemble the already given of visual form of this documentary reportage."
Jonathan Miles, London February 2006
The extract above is from 'Flickers of a Half–World' published by domobaal editions for this exhibition, available from the gallery.
Daniel Gustav Cramer lives and works in Berlin and London, and lectures in Fine Art at Sheffield Hallam University. He received his MA at the RCA in 2003 and was selected for Bloombergs New Contemporaries and New Arrivals at the Pumphouse, London the same year. 'Woodland' was published by domobaal editions in 2005, supported by Kunstiftung Nordrhein–Westfalen. He won the Jerwood Photography Award in 2005 with his ongoing series Woodland. His work has been exhibited in the UK, Germany, Iceland, Italy, France and Portugal.