Ansel Krut: Hotel Vinegar
15.09.06 – 31.10.06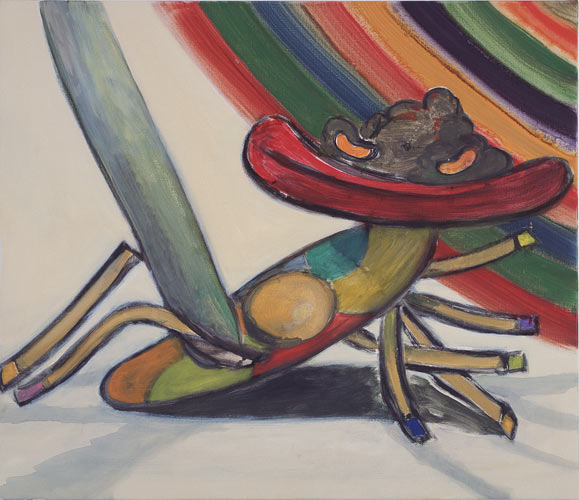 Domo Baal is delighted to present Ansel Krut's third solo show in the gallery following on from the success of his 2-part solo show here in 2004. A pocket book for Hotel Vinegar will be published by the gallery with an essay by Martin Herbert and a story by Miles Johnson, designed by Sarah Backhouse.
"Ansel Krut's paintings often feel like propositions regarding the medium's capacity for building energy from multifariousness. Testicles with Moustache, for example, is a dense simultaneity of displacements: the apparent subject of a pinwheel-eyed, behatted head rising over a wall—or an ocean—of scuffed paint, is soon made unsteady. Cheeks and lips, you realize, do double-duty as thighs and booted calves; the nose is a pendulous pair of testicles, and so on. But this physical doubling, extending onto gender (and riding on deceptively rough-looking handling that enfolds a delicate touch), subtends an emotional one. The pictured subject's beleaguered emotional state won't hold, so indecorously extreme is it—it wants to flip over into some sort of joke. The pervasive instability won't let that reading dominate either; not will the content settle. A painterly recasting of the famous duck/rabbit image, it's a portrait of selfhood constantly collapsing into its other, enabled by the fluid permissions of paint." Martin Herbert, June 2006
Ansel Krut is currently Fellow in Drawing at Wimbledon School of Art and exhibiting LA Diary in a 3-artist exhibition he is curating called Maybe a Duck ... Maybe a Rabbit ... This project marks the halfway stage in his Fellowship, and will have an accompanying publication with an essay by Peter Suchin. He is also currently exhibiting in 'Drawing Breath' an exhibition & publication of Award Winners to commemorate the 10th anniversary the Jerwood Drawing Prize, in which he has exhibited on numerous occasions as well as being an award winner.
Since his last solo show, his recent work has been published in 'The Drawing Book' edited by Tania Kovats, published by Black Dog and '1001 paintings to see before you die' edited by Stephen Farthing (forthcoming). His paintings have been exhibited in New York, Los Angeles as well as several group shows in the UK most recently including World Gone Mad Herbert Read Gallery (touring, catalogue). He will be represented in survey exhibitions of drawing at the Temple Bar Gallery in Dublin and the Weatherspoon Museum of Art, North Carolina, USA.