Jeffrey TY Lee
18.11.06 – 23.12.06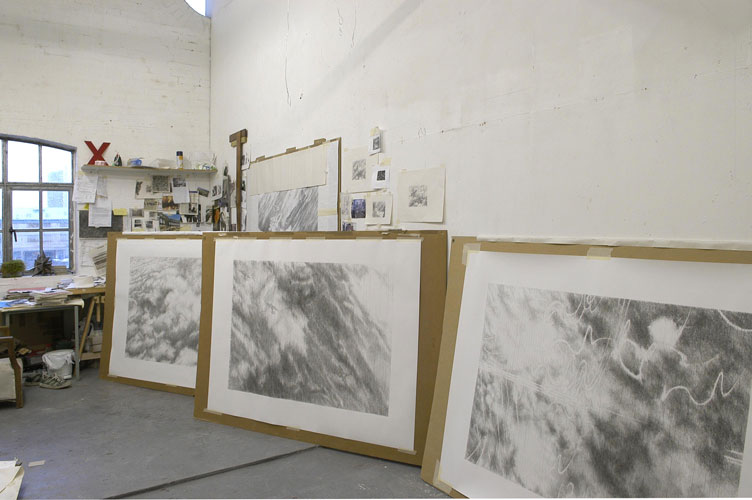 Domo Baal is delighted to present Jeffrey TY Lee's first solo show in the gallery. This exhibition will also inaugurate an additional exhibition space in the building. A poster has been published for the exhibition, printed on newsprint and available from the gallery. An essay by Andreas Neufert, in German with an English translation was written to accompany the exhibition.
"Twisting through firestorms thousands of feet above Europe, primitive gun cameras bolted to the wings of fighter planes in World War II caught nausea–inducing and chillingly beautiful black and white footage of airplane combat … cinematic series storyboards form a narrative of their own. Painstaking layer after layer of pencil lead, reminiscent of 18th century Japanese wood cuts in their flattening of perspective, cover a grid-like architectural structure which over time slowly begins to form the stormy curl of sublime skies, encased in the dark frames of a television screen. The iconic image of a plane might carry loaded meanings these days, but TY Lee seeks to subvert the accepted notions of the past, even to erase them, by breaking his pictures down…"
Hannah Lack writing in Dazed & Confused, November 2006
Lee works with film, video, sculpture and drawing.
Jeffrey TY Lee graduated in Sculpture under Gerard Wilson at Chelsea School of Art, after which he was selected for Bloomberg New Contemporaries, in 2000. He received his MA in Sculpture at the Royal Academy Schools in 2003. He has exhibited in 'Polyfonia' at Jetty Barracks Gallery, Helsinki in 2005, 'Some Panoramas' at the pump house gallery, Battersea in 2003. His video 'Plot' was selected for the Jerwood Drawing Prize, in 2003, and was shown in 13+, an exhibition of artists film and video, at domobaal in 2005. Most recently, 'Plot' and 'Web II' were shown at the 1st Vienna Biennale in September.