Steve Johnson: Die Welt vorbeiziehen lassen
14.11.08 – 17.01.09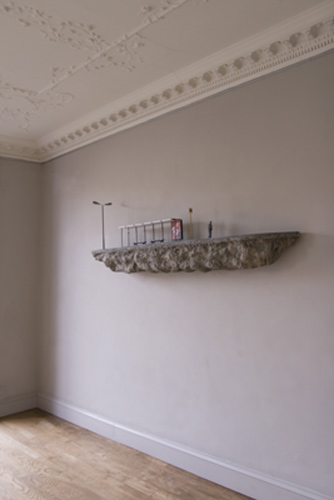 Domo Baal is delighted to present Steve Johnson's solo show in the gallery. Steve Johnson's recent work including sculpture and watercolours, juxtaposes elements of the built urban environment with the earth fundament on which they stand. 'Letting The World Pass By: The View On The Platform' an essay by Karl Baker on the work of Steve Johnson has been written for this exhibition.
Schrumpfende Städte (Shrinking Cities) and other sculptures are installed high on the gallery's walls – almost too high; the altered perspective revealing two disparate working practices, apparently at odds with each other. The level from pavement up, with its tantalisingly intricate elongated lampposts and detailed bus shelters is constructed with attentive care, using precise machinery and tools. This element is then peversely obscured from view, being placed emphatically above eye-level. Instead the gaze is planted firmly below ground fixed on a rough mass of composite matter, sculpted with a clawing action and then smeared with an inert soil formula. 'Deep Time' is suggested here, an archaeological term describing time as concretised layers of earth below our feet.
This altered perspective exudes a feeling of disconnectedness, further emphasised by the 'island' quality of each piece. Context and immediate environment are deleted restricting the dialogue between building and environment to the vertical – between above and below. Scaled awkwardly larger than one might expect, yet far from the monumental, these are not miniature architectural models but more precisely psychological portraits of familiar everyday places.
Places for storytelling and revelry, places of retreat and escape - all from a worm's eye view.
Steve Johnson is a recipient of a Pollock–Krasner award. He and Domo Baal would like to thank the Kulturamt and Interessengemeinschaft der Galerien Wiesbaden, Germany. 'Shrinking Cities' was recently selected for and exhibited in '12 Am Ring' Wiesbaden, as part of Wiesbaden Kunstsommer. Most recently in the UK Johnson exhibited in 'Concrete Dreams' at APT, Deptford, and 'The Edge of The Everyday' at Chelsea Future Space, London 2006.
Further information on Steve Johnson, click on titles to download: