Ailbhe Ní Bhriain: Great Good Places
24.09.11 – 05.11.11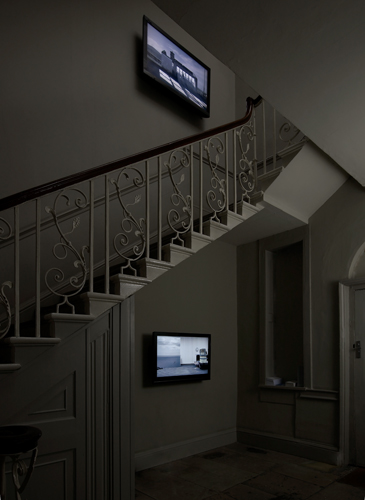 Domo Baal is delighted to present Ailbhe Ní Bhriain's second solo show in the gallery. Ailbhe Ní Bhriain will be showing a new series of four videos, collectively called 'Great Good Places'. The work takes the museum and the office as its settings and employs simple collage devices to explore the essential ambiguity of image space. These interventions set up tensions, overlaps and slippages – between surface and depth, place and placelessness, the real and illusory – to create scenes of suspension or displacement. Objects move from being incidental elements to active players in these scenes, negotiating the between–space and lending an unlikely coherence to its contradictions. While readily declaring its constructed–ness, the work also invites the viewer to inhabit its fluid illogic. The series borrows its title from the Henry James short story The Great Good Place – an allusion to the slippage contained within that narrative between dream and reality, and the presence of the hallucinatory in the mundane and vice versa. Drawing on James' story, this work proposes the image itself as a site of refuge and escape – a displaced elsewhere, a state of suspension, a Great Good Place.
'Great Good Places' a four–volume chapbook, presented as a set, each with clothbound soft–cover in a signed and numbered edition of 100 will be published to accompany this exhibition and will be available from the gallery and also from the London Art Book Fair at the Whitechapel Gallery 23–25 September 2011.
Ailbhe Ní Bhriain lives and works in Cork, Ireland, where she is Lecturer in Fine Art at Crawford College of Art. She completed her MA at The Royal College of Art, London in 2004 and her PhD in Fine Art at Kingston University, London in 2008. In 2004 she won the Jerwood Drawing Prize Student Award for her video 'Immergence' and was selected in 2010 for 'Futures 10' at the Royal Hibernian Academy in Dublin. She is a current recipient of the Arts Council of Ireland, Visual Artists Bursary Award, and has held solo shows at the Butler Gallery and the Galway Arts Centre in Ireland. Her work has been widely exhibited in group shows internationally.
Ailbhe Ní Bhriain and Domo Baal would like to thank the Arts Council Ireland/An Chomhairle Ealaíon, Culture Ireland/Cultúr Éireann and The Cork Film Centre for their generous support of this exhibition.