Lothar Götz: The Line of Beauty + Special Guests
09.11.12 – 22.12.12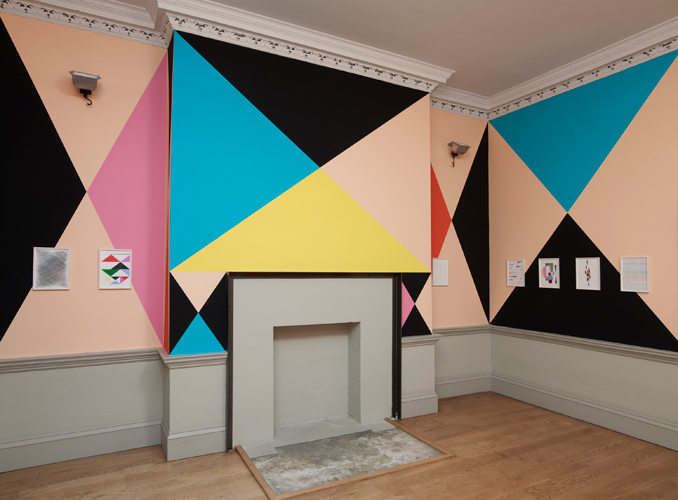 (image: Lothar Götz 'What makes boys dance?' emulsion on wall, with 'Retreats' pencil and colour pencil on paper, framed, 29.7×21cm, all work 2012, photo Andy Keate, domobaal. click *here to download the complete list of works)
Domo Baal is delighted to present 'The Line of Beauty + Special Guests', the second of a two–part solo exhibition by Lothar Götz. 'The Line of Beauty' is Lothar Götz's first solo exhibition in London since his solo shows at Gasworks (2001) and Chisenhale Gallery (2002) and follows five solo exhibitions in public galleries in Germany and at Chapter in Cardiff (2001–2012). The exhibition shows new paintings and drawings as well as a site–specific mural entitled 'What makes boys dance?'.
'The Line of Beauty + Special Guests' includes works by Eric Bainbridge, Neil Gall, Joachim Grommek, Daniel Robert Hunziker, Paul Huxley, Ernst Wilhelm Nay, Ben Nicholson, Uli Nimptsch and George Shaw.
Lothar Götz has invited nine friends, colleagues and artists whose work has influenced his own practice to contribute a work each to his solo show. 'The Line of Beauty + Special Guests' will also include five treasured items from Götz's collection of Nymphenburg and other porcelain. Götz will show fourteen new drawings that reflect these ongoing personal conversations.
With many thanks to Aurel Scheibler, Berlin; Diana Eccles at The British Council; Von Bartha, Basel, rahncontemporary, Zürich; Matthew Reeves; Wilkinson Gallery; Susan Nimptsch, Sir Barry and Lady Wilson and Workplace Gallery, Gateshead for their generous support of this exhibition.