Miho Sato: Amnesia
04.06.05 – 16.07.05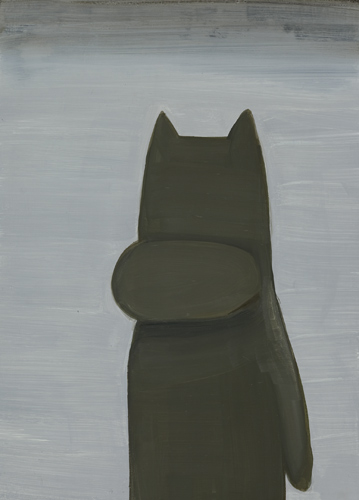 Ruination
Walter Benjamin said that history was to ruin, what allegory is to thought. For him allegory was a form of actuality that made visibly palpable the experience of a world in fragments. These cultural fragments assumed for him a strange after–life, like fossils that take us back into prehistoric spaces. Images as "small, particular moments" had the capacity to discover larger forms of significance on the plain of history. If the discarded images and objects represented the trash of history, they also held key to open out a view of history backwards, as opposed to forward under the sign of progress.
The last attribute of Miho's painting is that of history painting. They appear to be private, remote, anonymous, and bereft of particularity. They also appear as an uncomfortable presence in the grand setting they now occupy, as if stolen in through the back entrance. They might even appear to avoid the light of day. As such there is something of a fugitive character in them. Some of these attributes are due to the way they explore a border region between the life and non–life of the image. As paintings they are strangely immobile, as if caught in a nether region in which all movement has ceased. The image sets up a paradox, or makes visible a splitting that serves to evoke both intimacy and distance as attributes at the source of the spell the image casts. The act of painting appears to push the image back into a regressive plain in which it is stripped back to an almost spectral core. The writer Maurice Blanchot evoked the notion that behind each and every image there lay a cadaverous presence and rather than being made by images, we are instead unmade. These are paintings that appear as relentless accumulation, but rather than an accumulative sense of realisation, we are left within a stale and overplayed groove in which the images circulate without end or purpose. Rather than allowing for the passage of time, that soothes like a cheap tune easing itself across the gloss of the everyday, these images instead serve as reminders of the deathliness that imbeds in the ever same of reproducible culture. The darkness of this work is in the grim treadmill they articulate. In its turning everything is declared null and void. We are in turn left with a hidden note indicating the possibility of the death of art, but in a world in which technology is the measure of all things; art is stripped of its power to finally die. They are grim paintings because they are condemned not only to continue as perpetually foreign to their own making, but because of the honesty they mobilise, cannot find the refuge that would come with switching off the remaining bulb that divides the night from its sleep.
© Jonathan Miles, London, May 2005
Miho Sato graduated from the Royal Academy Schools in 2001, and was awarded a Fellowship for 2001/2002. Selected exhibitions have included: 'Mostyn Open 12' (March 2002), 'British Painting' (January 2004) John Hansard Gallery, Southampton, 'John Moores 23', Walker Art Gallery, Liverpool (September 2004) 'Radical Art', Jerwood Space (February 2005). In February she was selected for the New Territories section at ARCO '05, Madrid, selected by Brian Muller, Contemporary Magazine. She will also be exhibiting in Venice during the Biennale in 'Painting London' curated by Daniel Sturgis, supported by the British Council. Her work is widely collected, and is included in private collections in Rome, Belgium, Germany and the UK. This will be her first solo exhibition. Domo Baal and Miho Sato are grateful to the Great Britain Sasakawa Foundation for their support.